The Lord, our God longs to be gracious to us; seeing this is His delight. As we pray the Lord's Prayer, we satisfy His longing Soul as He scatters the enemy of our soul seven ways.
This is the second part of the author's life-changing book, Discovering Your Anointing Numbers.
This book will help you:
•Think like a winner •Act more positively •Identify strongholds •Take action in doing God's pre-ordained good works.
In her life-changing book, the author helps readers discover their anointing numbers and empowers them to fight life's great battle – themselves. Discovering Your Anointing Numbers examines the influence that numbers have on human behavior from a biblical perspective.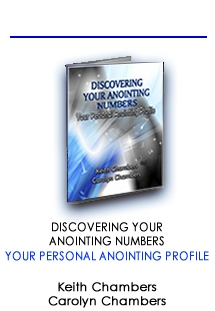 A compelling personal story of a Vietnam War combat helicopter gunner suffering from post-traumatic stress disorder. A surprise thriller! This is a touching memoir that takes you into the mind and heart of a troubled soul. The story of this challenging post-war life is not all it appears to be on the surface. All while communicating an unbelievable story, this book features the author's poetry and journal entries to further illustrate his experiences. The combination of story-telling and art are sure to keep you reading until the end.
As a companion to The Anointed Life: Crucifying the Flesh (see above), this workbook is designed to personalize your approach in dealing with the Gedaliah issue; it will help you examine your own thoughts, convictions, and beliefs.

This workbook will begin with the examination of three perceptions that illustrate the need for input from the Father. It shows how Gedaliah was out of his league when dealing with the flesh alone. To guard the anointing, we must learn to depend on God even in the minor details of life. We will find that He is indeed a very present help in times of need.
DISCOVER YOURSELF AGAIN!
Empowering the inner-man, you will receive a personalized snapshot of your anointing, to help you win the battle against the flesh, and walk in your dominion. Scripturally–based, you will see yourself the way God sees you; and gain a working knowledge of the subtle enemies working surreptitiously against you. This profile will empower you to have a kingdom mentality!
JUST $7.00!